The man Youssou N'Dour, often regarded in culture circles as king of African pop, is a Senegalese🇸🇳 singer and songwriter, and one of the most celebrated and influential living musician on the continent.

Much of his career has been dedicated to transforming the West African music scene by mixing ancient influences with the very modern and then exporting the same to the world. Now 63, N'Dour remains a thrilling performer.

Born in Dakar, N'Dour started performing at age 12, playing regularly with the Star Band - Dakar's most popular group during the 1970s. Shortly after joined Super Diamono and, in 1975, toured with the band in West Africa.

In 1978, he joined the newly formed Étoile de Dakar band, a group that made important contributions to Senegal's newly evolving musical style called Mbalax which incorporated traditional Senegalese music into the Latin styles that had dominated Senegalese popular music at the time. Although they quickly became one of the city's most popular bands, the group was short-lived due to internal problems.
Youssou N'Dour in performance mode
By 1991, he had opened his own recording studio, and, by 1995, his own record label, Jololi where he churned out more than a dozen albums including earlier cassette compositions featuring the Super Étoile de Dakar band.

N'Dour's mix of traditional Senegalese mbalax with eclectic influences ranging from Cuban rumba to hip hop, jazz, and soul won him an international fan base of millions. Over the years, he has collaborated with the acts like Peter Gabriel, Wyclef Jean, Tracy Chapman, Neneh Cherry (with whom he made his biggest international hit "7 Seconds" released in 1994) and a host of others.

While the New York Times described his voice as an "arresting tenor, a supple weapon deployed with prophetic authority", N'Dour's work absorbed the entire Senegalese musical spectrum, often filtered through the lens of genre-defying rock or pop music from outside Senegalese culture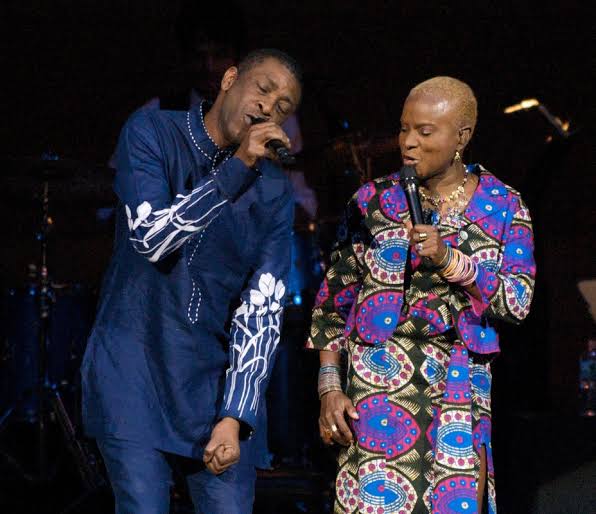 N'Dour with 5x Grammy award winner Angélique Kidjo
N'Dour, as Minister of Tourism Senegal (2012)
N'Dour would go on to write and perform the official anthem of the 1998 FIFA World Cup with Axelle Red "La Cour des Grands (Do You Mind If I Play)". Following an outstanding music career, he became a powerful cultural icon, actively involved in social issues. In 2003, N'Dour canceled an upcoming American tour in order to publicly deny support for the upcoming American invasion of Iraq.

In 2011, N'Dour was awarded an honorary doctoral degree in music from Yale University, and in 2013 won a share of Sweden's $150k Polar music prize for promoting understanding between faiths as well as for his music.

At the beginning of 2012, he announced plans to stand as a candidate in the 2012 Senegalese presidential election, competing against President Abdoulaye Wade. However, he was disqualified from running in the election over the legitimacy of the signatures he had collected to endorse his campaign. He backed the opposition candidate Macky Sall, who defeated Wade in a second round of voting in March 2012. N'Dour was appointed as Minister of Culture and Tourism in April 2012 as part of the cabinet of new Prime Minister Abdoul Mbaye.

At present, N'Dour is the proprietor of L'Observateur, one of the widest-circulation newspapers in Senegal, the radio station RFM (Radio Future Medias) and the TV channel TFM