Edo state has unique and fascinating beliefs, history, and culture. When it comes to cultural attire, the Edo People maintain a unique way of dressing. Coral bead accessories are a true passion for Edo women and men.The Edo culture is popular in the Southern part of Nigeria. It has an interesting history and strong respect for the traditions that are passed from generation to generation. Let's talk about their mode of dressing.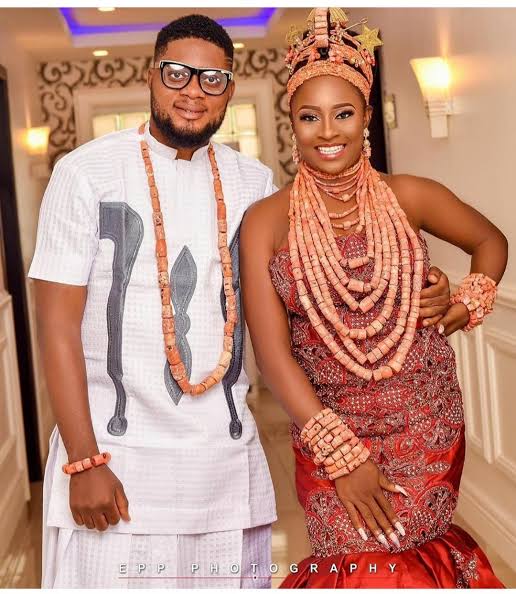 Edo Male Dressing
when it comes to Cultural attire, Edo men don't joke. They happily wear a white T-shirt or shirt and above it they wear a multicolored striped fabric. You also can find options with other patterns.
The cultural attire is usually accompanied by a cap or hat. The caps are often called headdress and are made either of a mesh of coral beads or of fabric.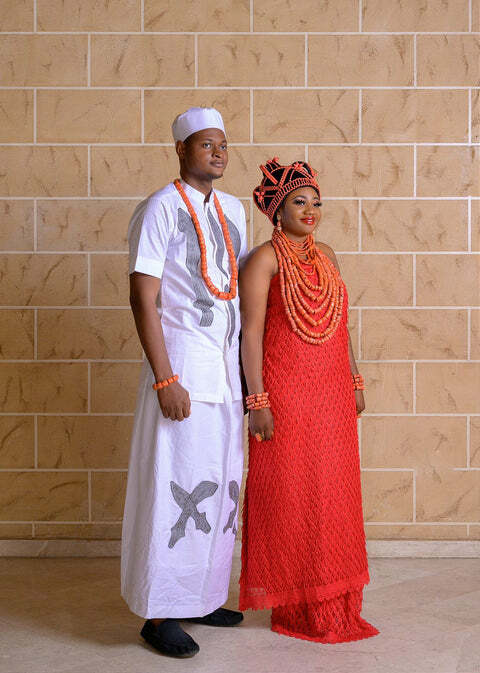 The choice of headdress depends on the preferences of a man. Some men even prefer to wear black hats as part of their traditional attire.
It is also popular to choose a carved walking stick that makes a groom look like a true gentleman. Wearing a wrapper around the waist is also a tradition for many men.
Throwing a colorful wrapper over a white shirt underneath with a horse tail held on the left shoulder over the wrapper is another dressing style for Edo groom.
Edo Female Dressing
The Edo female Cultural attire is one of it's kind. Edo women are very beautiful. Wearing their cultural attire doubles their beauty. You can't help it but admire Edo ladies.The Edo women have their hair made into a unique hairstyle known as Eto-Okuku. Coral beads are then sewn into the hair to form of a crown known as the Okuku.




The Edo women tie beautiful wrappers made from a variety of fabrics including velvet, lace and george. They also wear the Ewu-ivie, a beaded cape or blouse.Edo women adorn their necks with coral beads known as Ivie-uru and wear the Ivie-obo on their hands and beaded earrings. Their handbag is made out of coral beads as well the Ekpa-ivie.





Africa has a rich and diverse way of life. Edo cultural attire is one of the many beautiful attires for Africans. We'd do our best to keep you abreast with our facinatng way of life.



credits: Petra/ editor: ToluRock