The summer of 1987 was lit up with the joyful chants and echoes of a particular soulful, melodious, Afro-Carribean record that hit the airwaves at the time. The record, "Send Down The Rain", as written, recorded and performed by Majekodunmi Fasheke (pka Majek Fashek) was a tune for self-belief and renewed hope in the fortunes of life ahead. Listeners across music halls in Africa and the black diaspora quickly embraced "Send Down The Rain" for its message of conscience and the young, impressionable Majek was soon crowned with the title "The Rainmaker" for his artistic efforts.


Performing "Send Down The Rain"

Growing up in the ancient city of Benin - south of Nigeria, Majek Fashek joined the choir in his mother's local church where he learned to play the trumpet and guitar whilst composing songs for the choir. His mother was a businesswoman who supplied concrete to road contractors. She inspired him through her participation in traditional religious ceremonies where the Olokun rhythms were used to accompany worship of the river goddess. As a youngster, Fashek played maracas during the ceremonies.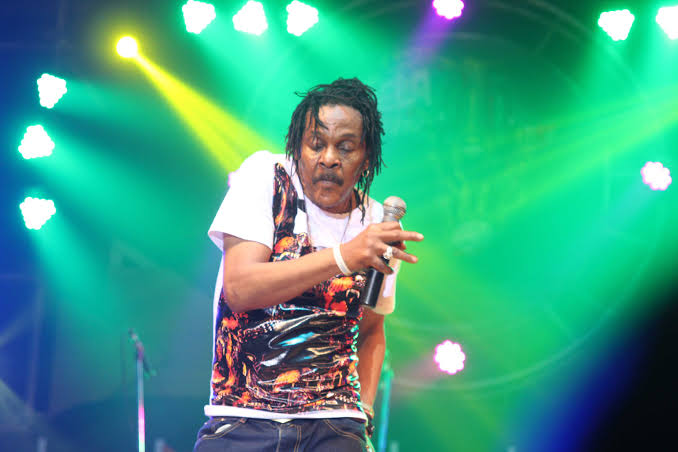 Fashek in performance mode

After high school, Fashek who at the time went by the stage name Rajesh Kanal, went on to join the group "Jastix" made up of musicians Amos McRoy Gregg and Black Rice. The trio soon gained popularity as the in-house band on the NTA Benin show Music Panorama, and toured with fellow reggae group The Mandators.


Fashek with ex wife, Rita

In 1987, shortly after Jastix disbanded, Fashek, who now used the name Majek Fashek, signed with Tabansi Records and began a solo career, releasing the album "Prisoner of Conscience" and quickly becoming Nigeria's top reggae artist after the song "Send Down The Rain" became the most popular song of the year. Fashek's next album, "I&I Experience", was released in late 1989 under the Tabansi Label and included the anti-apartheid anthem "Free Africa, Free Mandela".


Fashek playing at a private listening

After leaving Tabansi Records, Fashek was signed to CBS Nigeria in the early 1990s and released So Long Too Long. In 1990 he was signed to Interscope Records and released the critically acclaimed album "Spirit Of Love". In 1992, he appeared on Late Night with David Letterman in support of his new 1991 album, and performed the song "So Long Too Long" for the television audience.



Fashek, shortly before his passing.

Fashek's musical influences include Bob Marley – whom he resembled vocally. He was one of the original Nigerian artists drawn to Caribbean music, specifically reggae, rather than indigenous hybrids such as fuji, jùjú. However, he was known to mix these genres to create his own style he called kpangolo, and the song "My Guitar", an ode to his favorite instrument, was heavily influenced by rock. Also, Fashek, whose name means "power of miracles, the high priest does not live", had a very close involvement with the late Nigerian bandleader Fela Anikulapo Kuti.